Please join us on June 17, 2021
---
Colorectal Cancer is the second leading cause of cancer death in Canada. Colorectal Cancer Resource & Action Network (CCRAN) is a national colorectal cancer patient advocacy organization dedicated to improving colorectal cancer patient outcomes by providing a 'SEA' of services: support, education, and advocacy.
The incidence of colorectal cancer has been declining in Canadians over 50 years of age, largely due to population-based screening programs.
Recent evidence has shown, however, that rates have been increasing in adults younger than 50 years. The July 2019 JAMA Paper findings provide evidence that "the increased incidence of colorectal cancer among younger adults in Canada is not only continuing but possibly accelerating".
In response to the findings and the growing number of young patients seeking support, education, and advocacy for advanced colorectal cancer, CCRAN is hosting its first of three symposia to be held virtually on June 17, 2021. Over the course of these three symposia, CCRAN will educate on, strategize, and implement a response to the rise in early age onset colorectal cancer (EAOCRC).
Two highly renowned medical experts have generously agreed to cochair this first symposium. Dr. Shady Ashamalla, Head, Division of General Surgery & Minimally Invasive Surgical Oncology at Sunnybrook Health Sciences Centre and Dr. Sharlene Gill, Professor of Medicine at the University of British Columbia, both of whom will also be supported by a stellar expert advisory committee.
We are privileged to have attracted several distinguished speakers from across North America for this half day virtual symposium to explore the landscape of ongoing research initiatives in the rising rates of young adult colorectal cancer and share best practices to inform optimal management and care of the EAOCRC patient population.
Please join us for this important symposium to understand how, together, we can reverse this disturbing trend.
I invite you to learn more about CCRAN's work at www.ccran.org.
Sincerely,
Filomena Servidio-Italiano
President and CEO
CCRAN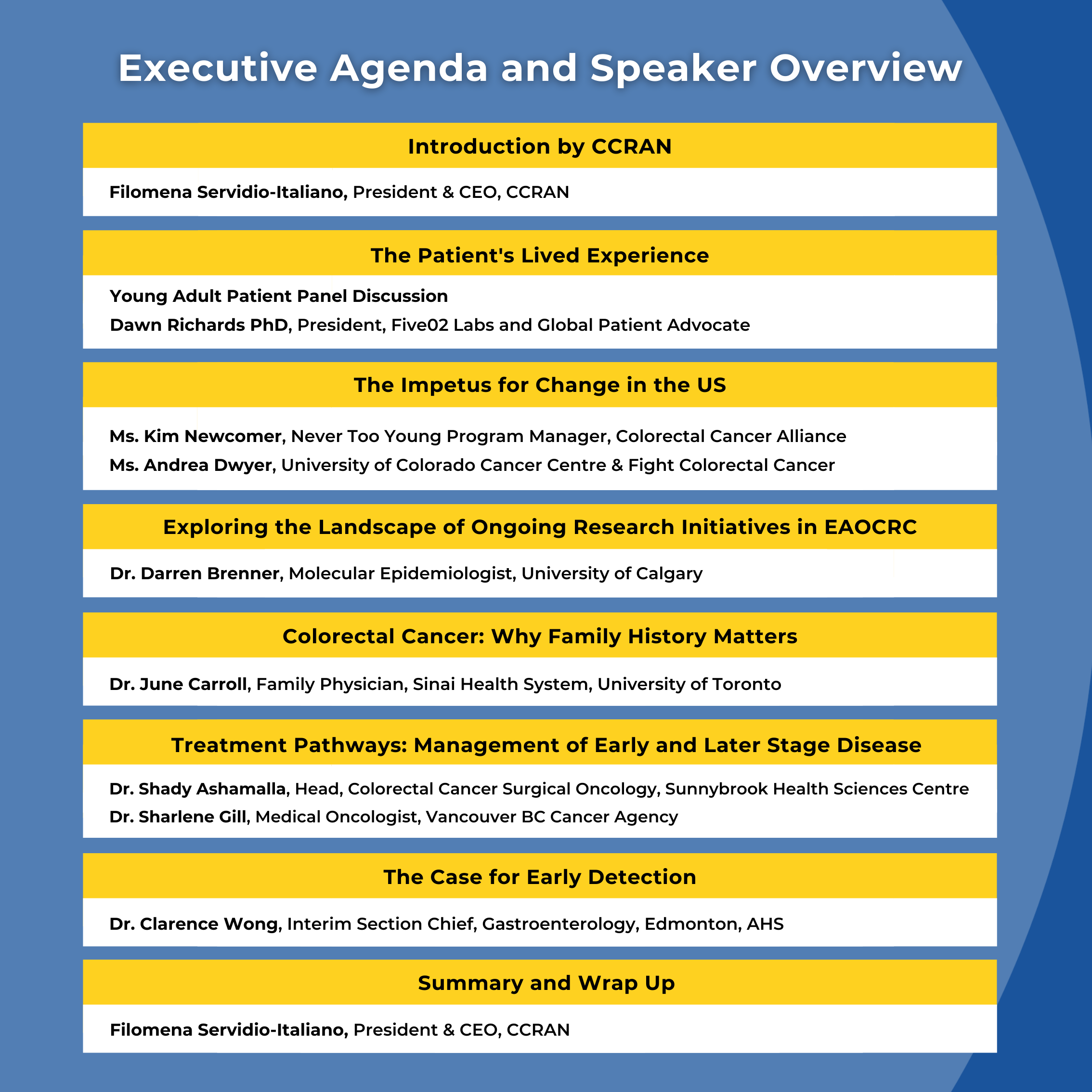 Conference brochure coming soon.
---
This activity has not been formally reviewed by the CFPC; however, both CFPC members and non-member Mainpro+ participants may claim Mainpro+ non-certified credits. Each hour of educational activity can be claimed as 1 non-certified credit.*
*In addition, CFPC members can complete and submit a Linking Learning to Practice online form for certified credits, which can be found on the Mainpro+ Dashboard. Linking Learning exercises are self-administered, semi-structured exercises that challenge physicians to look at day-to-day activities as learning opportunities. The Linking Learning submission form helps to identify a question, and then guides the reader through a series of critical inquiry and practice reflection exercises that lead to answering the question. Each completed Linking Learning exercise is eligible for 5 Mainpro+ certified credits. More information about Linking Learning exercises can be found at the following link: https://www.cfpc.ca/en/education-professional-development/cpd-at-cfpc/linking-learning-exercises